Jurassic World: Dominion Dominates Fandom Wikis - The Loop
Play Sound
​​​​​Level System

The Level System in Standoff 2 is based on experience points.
Experience points are earned by finishing games while having score points.
Score points are earned by killing an enemy, assisting, upgrading your weapon [arms race only], planting the bomb, getting the bomb to explode and defusing the bomb [defuse only].
You will recieve a different amount of score points for each of those actions in different gamemodes.
You will also get a different amount of experience points for your score points depending on the gamemode.
Every level up there is a chance for either coins or a box, those level up rewards are not guaranteed.

Kill: 2 
Assist: 1
Planting the bomb: 2
Bomb explosion: 2
Defusing the bomb: 5
experience points per score point: 25

Kill: 1
Assist: -
experience points per score point: 10

Kill: -
Assist: -
Weapon Upgrade: 1
experience points per score point: 35

Normal kill: +2
Jumpshot kill: +3
experience points per score point: 10
Prestige

If you hit level 50, which is the highest level, you will have the option to get a Veteran Medal.
To get to level 50 you will need a total of 259800 experience points.
There are currently 4 different Veteran Medals which you can obtain:

Bronze

Silver

Gold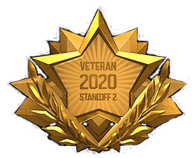 Platinum
Levels
Level 1 - Recruit 1 - 3000 exp to level up

Level 2 - Recruit 2 - 3100 exp to level up

Level 3 - Recruit 3 - 3200 exp to level up

Level 4 - Private 1 - 3300 exp to level up
Level 5 - Private 2 - 3400 exp to level up

Level 6 - Private 3 - 3500 exp to level up

Level 7 - Corporal 1 - 3600 exp to level up

Level 8 - Corporal 2 - 3700 exp to level up

Level 9 - Corporal 3 - 3800 exp to level up

Level 10 - Sergeant 1 - 3900 exp to level up

Level 11 - Sergeant 2 - 4000 exp to level up

Level 12 - Sergeant 3 - 4100 exp to level up

Level 13 - Staff Sergeant 1 - 4200 exp to level up
Level 14 - Staff Sergeant 2 - 4300 exp to level up

Level 15 - Staff Sergeant 3 - 4400 exp to level up

Level 16 - 3rd Sergeant - 4500 exp to level up

Level 17 - 2nd Sergeant - 4600 exp to level up

Level 18 - 1st Sergeant - 4700 exp to level up

Level 19 - Master Sergeant 1 - 4800 exp to level up

Level 20 - Master Sergeant 2 - 4900 exp to level up

Level 21 - Master Sergeant 3 - 5000 exp to level up
Level 22 - Major Sergeant 1 - 5100 exp to level up

Level 23 - Major Sergeant 2 - 5200 exp to level up
Level 24 - Major Sergeant 3 - 5300 exp to level up

Level 25 - 2nd Lieutenant 1 - 5400 exp to level up

Level 26 - 2nd Lieutenant 2 - 5500 exp to level up

Level 27 - 2nd Lieutenant 3 - 5600 exp to level up

Level 28 - 1st Lieutenant 1 - 5700 exp to level up

Level 29 - 1st Lieutenant 2 - 5800 exp to level up
Level 30 - 1st Lieutenant 3 - 5900 exp to level up

Level 31 - Captain 1 - 6000 exp to level up

Level 32 - Captain 2 - 6100 exp to level up

Level 33 - Captain 3 - 6200 exp to level up

Level 34 - Major - 6300 exp to level up

Level 35 - Lieutenant - 6400 exp to level up

Level 36 - Colonel 1 - 6500 exp to level up

Level 37 - Colonel 2 - 6600 exp to level up

Level 38 - Colonel 3 - 6700 exp to level up

Level 39 - 3rd Colonel - 6800 exp to level up

Level 40 - 2nd Colonel - 6900 exp to level up

Level 41 - 1st Colonel - 7000 exp to level up

Level 42 - Brigadier General 1 - 7100 exp to level up

Level 43 - Brigadier General 2 - 7200 exp to level up

Level 44 - Master General 1 - 7300 exp to level up

Level 45 - Master General 2 - 7400 exp to level up

Level 46 - Lieutenant General 1 - 7500 exp to level up

Level 47 - Lieutenant General 2 - 7600 exp to level up

Level 48 - 1st General - 7700 exp to level up
Level 49 - 2nd General - 7800 exp to level up
Level 50 - Commandor - Max level